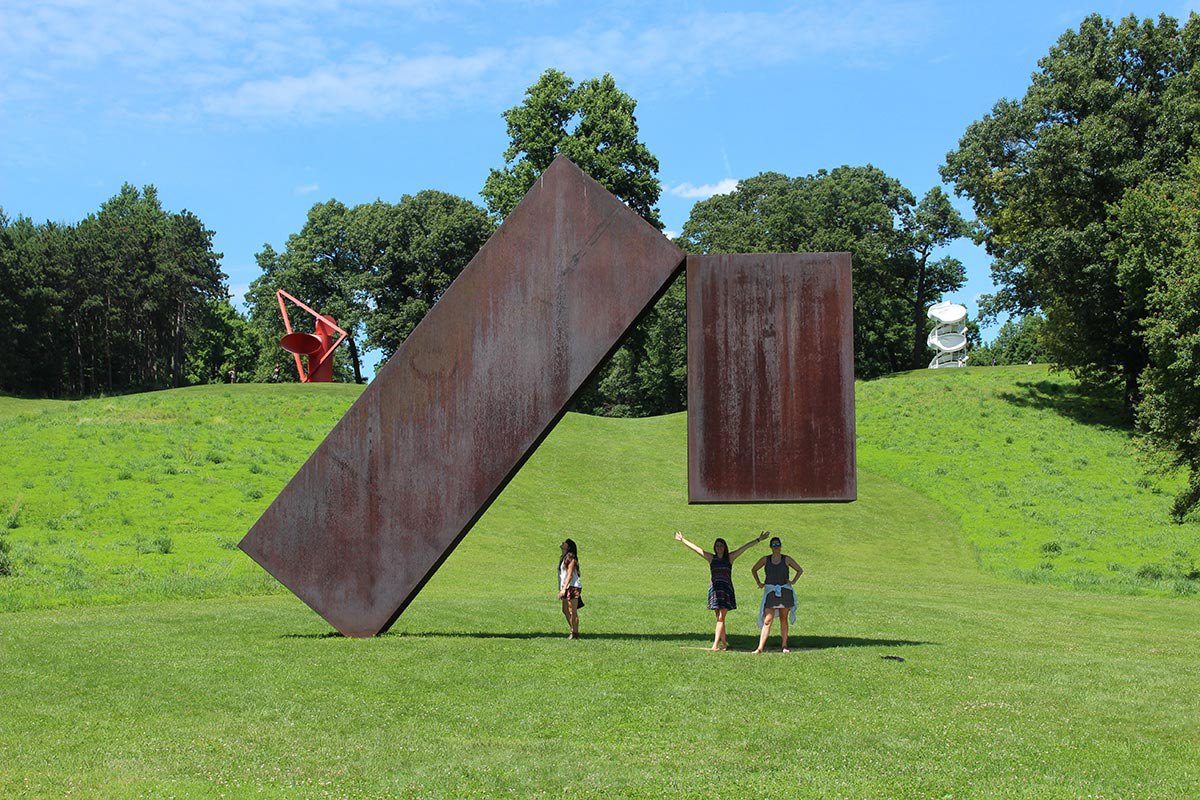 Storming The Valley
June 2, 2019

Kick off summer and World Pride month with a picnic and hike at Storm King Art Center - a stunning 500 acre property housing over 100 art installations scattered through fields, hills, and woodlands.
** CLOSED - PAST TRIP **
sold out
We are launching our #TakePrideOutside campaign with an outing to the Hudson Valley. Join us for an afternoon relaxing in nature and walking amongst the shadows of the beautiful sculptures and woodlands of Storm King Art Center.
This is a laid back adventure, perfect for grabbing friends and escaping to the outdoors for the day. While we'll chart out a suggested path to explore the grounds, you'll be able to take it at your own pace, picnic on the lawns, sunbathe, or even rent a bike. Registration closes May 27th.
[ - transport - ]
shuttle
[ - skill - ]
beginner friendly
Itinerary
9:30 AM | Pickup
GOATs will meet our shuttle at 9:15 am for a 9:30 am departure from Union Square.
11:00 AM | Arrival & Explore
On arrival, before heading off to explore the grounds, park staff and your GOAT guide will provide a brief orientation, handout maps and suggested hiking routes , as well as lunches.
1:00 PM | Lunch
While you can lunch anywhere on the grounds, GOATs looking to reconnect and eat with others will meet up at the pavilion. After lunch, explore more of the grounds or even rent a bike.
3:30 PM | Departure
Meet back at the shuttle around 3:15 for a 3:30 pm departure. We'll return to our original pick up location in Union Square.
Pricing:
$95 Total Trip Cost

Activities:
- hiking
- walking
Trip Capacity:
- 49 people
Includes:
- Transportation
- Park Admission Fee
- Guides
- Lunch
Options:
- bike rentals
Food Options:
All lunches come with potato chips, cookie & water. Each guest will select one of the following lunch options listed below. Additional food, water, snacks and beverages can be purchased on site from the Taco Food Truck, Storm King Café, and Café cart.
Hummus, carrot, cabbage, parsley, mint, lettuce & lemon in a grilled whole-wheat vegan wrap

Sliced smoked chicken, arugula with grain mustard-tarragon-mayo on ciabatta

Smoked ham, cheddar, lettuce with dijon-mayo on ciabatta

Mozzarella, pesto, roasted cherry tomatoes, and arugula on whole-wheat baguette
Bike Rentals:
Bike rentals are not included in the trip price. Bikes however can be rented from the Art Center on the day of the trip. $24 for 2 hours or $44 for the day.
Transportation:
GOATs departing from NYC area can meet our shuttle. It will depart 9:30am sharp from Union Square.
GOATs driving themselves will meet us at Storm King Art Center at 11:00 am Sunday morning. We'll provide details upon registration.
Cancellations:
This trip abides by our standard cancellation policy. If you cancel before the May 27th 2019, the refundable amount of $60 will be returned to you. If you cancel on or after May 27th 2019 you will forfeit the entire trip amount. For your protection, we strongly recommend our guests purchase trip cancellation insurance.